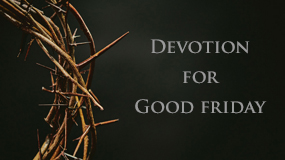 But he was pierced for our transgressions,
he was crushed for our iniquities;
the punishment that brought us peace was on him,
and by his wounds we are healed.  ~ Isaiah 53:5
Often in our lives, I think we run on autopilot. I don't think we believe in our hearts that we are invincible, but we don't make time and space to consider, or be mindful of the fact that our days are numbered. We keep busy. Hard work is good, isn't it?
I think since we struggle to consider our eternal lives, we don't create space in our lives often to remember that we are in need of a savior.
The season of Lent does help with creating intentional space in our lives to remember our need of a savior. We began this Lenten season with Ash Wednesday where we remember that we were created from dust, and it's to dust that our mortal bodies returns. During these 40 days, we may have given something up, or began a new spiritual disciple to remind us of our physical, emotional, and spiritual need of a savior.
Today, we remember Jesus our Lord. We remember his suffering and laying his life down to pay the price for our sin to God.
The scripture above always amazes me in how the prophet Isaiah spoke so clearly of Jesus so many generations before our savior came to earth.
Jesus gave everything – to remind us we don't have to stay stuck in our struggle and pain. We don't need to stay numb, and not face eternal questions or thoughts. We face our eternal future unafraid, because of His great, great love for us! How beautiful is Jesus – our Lord, our savior.
God brought beauty out of the brokenness of the cross, he gives beauty for our ashes. His sacrifice offers forgiveness for our sin. The power of the Resurrection gives hope for our future.
As we enter into this weekend, may we take a closer look at the reality of it all. The suffering of the cross. The huge sacrifice that Christ paid. The pain that He suffered. The great cost of His gift to us. The immeasurable love that was shown. The freedom of fear He offers.
This is the most important, most powerful, most beautiful story ever told.
Amazing Grace. Amazing, powerful, beautiful, holy, perfect Grace!
Would you pray with me today:
Holy Father,
We remember today, the pain and suffering of the cross, and all that Jesus was willing to endure, so I could be set free. All so I could be unafraid and live a life of peace and freedom. He paid the price, such a great sacrifice, to offer us the gift of eternal life. Help me never to take for granted this huge gift of love on my behalf. Help me to always be reminded of the cost of it all, even after this season has ended. Forgive me for being too numb, busy, or distracted by other things. Wake up, my soul – so that I may sing to you, my God!
Thank you, Lord that by your wounds we are healed. Thank you that sin and death have been conquered and that your Power is unending. Thank you that we can say with great hope, "It is finished!" Death has lost its sting. I thank you now, for defining love, and for making all things new.
In the Beautiful Name of Jesus,
Amen!
~ Pastor Denise