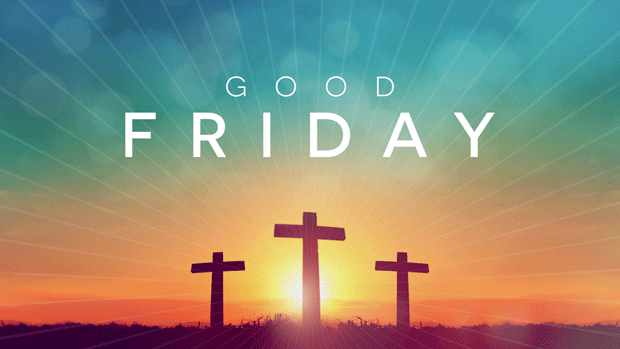 Good Friday Devotion
I pray that you are all well. I pray that you have had a peaceful Holy Week, and I pray that you feel God's presence and love with you on this sacred day.
If you had an opportunity to watch yesterday's Tenebrae service, you had heard a number of scripture readings that lead us through Jesus' arrest and trial and crucifixion.
Below is a devotion through each of the readings you heard with questions for your reflection. Also included are a couple of songs from our wonderful worship team.
I am praying for each of you daily. I pray that you are surrounded by God's love today.
Pastor Denise
Good Friday: Stations of the Cross
Background and Introduction:
The Stations of the Cross is a traditional liturgy (a form of worship) used by Christians for hundreds of years. Some Christian traditions have actual stations (or places) in the church building in which people walk as they read scripture and pray. Another traditional worship liturgy utilizing the Stations of the Cross is called a Tenebrae. Tenebrae worship takes us on a journey through the readings as candles are put out. The candles being put out are in many ways representative of us turning our backs on God through our sin and reminding us of the cost of our actions. In many different ways, we all journey the path of sins and need for repentance. So, each of us comes to this journey humble and open, recognizing that God is God and we are not. Also recognizing that we sin not only against God, but against other people that we are asked to love. We sin through omission and commission, knowing and unknowing, overtly and covertly, and therefore need to repent and change. It is a hard and sad journey, but not a lonely one because we have all sinned. It is a redemptive story because we know the outcome, Jesus is alive. As we find peace, joy, and hope in the truth of the resurrection, we must humbly take this journey of repentance recognizing God's love for us, even though we were sinners and the wages of sin is death, but the free gift of God is eternal life in Christ Jesus our Lord. – Romans 6:23
Below you will find the readings, questions to reflect on personally or with your family, and a short prayer. Please take some time and use this over the next couple of days as we reflect on our beloved Jesus' journey to the cross.
1st Station: Jesus in the Garden of Gethsemane
Read: Matthew 26: 36-46
Then Jesus went with his disciples to a place called Gethsemane, and he said to them, "Sit here while I go over there and pray." He took Peter and the two sons of Zebedee along with him, and he began to be sorrowful and troubled. Then he said to them, "My soul is overwhelmed with sorrow to the point of death. Stay here and keep watch with me."
Going a little farther, he fell with his face to the ground and prayed, "My Father, if it is possible, may this cup be taken from me. Yet not as I will, but as you will."
Then he returned to his disciples and found them sleeping. "Couldn't you men keep watch with me for one hour?" he asked Peter. "Watch and pray so that you will not fall into temptation. The spirit is willing, but the flesh is weak."
He went away a second time and prayed, "My Father, if it is not possible for this cup to be taken away unless I drink it, may your will be done."
When he came back, he again found them sleeping, because their eyes were heavy. So he left them and went away once more and prayed the third time, saying the same thing. Then he returned to the disciples and said to them, "Are you still sleeping and resting? Look, the hour has come, and the Son of Man is delivered into the hands of sinners. Rise! Let us go! Here comes my betrayer!"
Reflect:
Do you have a place where you go to find peace or centeredness?
God is the source of our strength and courage. Do you find yourself reaching out to God when times get hard? If so, how? If not, how could you?
Pray:
Lord, help me to find time and space to find your peace, so that I would have strength and courage needed. Amen.
2nd Station: Jesus is betrayed by Judas and is arrested
Read: John 18:1-9
When he had finished praying, Jesus left with his disciples and crossed the Kidron Valley. On the other side there was a garden, and he and his disciples went into it.
Now Judas, who betrayed him, knew the place, because Jesus had often met there with his disciples. So Judas came to the garden, guiding a detachment of soldiers and some officials from the chief priests and the Pharisees. They were carrying torches, lanterns and weapons.
Jesus, knowing all that was going to happen to him, went out and asked them, "Who is it you want?" "Jesus of Nazareth," they replied. "I am he," Jesus said. (And Judas the traitor was standing there with them.) When Jesus said, "I am he," they drew back and fell to the ground. Again he asked them, "Who is it you want?" "Jesus of Nazareth," they said.
Jesus answered, "I told you that I am he. If you are looking for me, then let these men go." This happened so that the words he had spoken would be fulfilled: "I have not lost one of those you gave me."
Reflect:
How does it feel when you can count on someone?
Have you ever felt like the world was against you? Describe the scenario. Who could you count on?
How do you think Jesus felt being let down by Judas?
Pray:
God, help us to live out our convictions and faith loving as one who is dependable. Amen.
3rd Station: Jesus is condemned by the Sanhedrin
Read: Luke 22: 66-71
At daybreak the council of the elders of the people, both the chief priests and the teachers of the law, met together, and Jesus was led before them. "If you are the Messiah," they said, "tell us."
Jesus answered, "If I tell you, you will not believe me, and if I asked you, you would not answer. But from now on, the Son of Man will be seated at the right hand of the mighty God."
They all asked, "Are you then the Son of God?" He replied, "You say that I am." Then they said, "Why do we need any more testimony? We have heard it from his own lips."
Reflect:
Did you ever wonder if Jesus really was who He said he was? How did you go about trying to resolve it?
Why do you think the chief priests and teachers of the law were so upset about Jesus? Why do you think people get so upset about Jesus today?
Pray:
God, help us uncover any doubt in my life and let go of any stubbornness that stops us from honest approaching You with our questions. Amen.
4th Station: Jesus is denied by Peter
Read: Matthew 26: 69-75
Now Peter was sitting out in the courtyard, and a servant girl came to him. "You also were with Jesus of Galilee," she said. But he denied it before them all. "I don't know what you're talking about," he said.
Then he went out to the gateway, where another servant girl saw him and said to the people there, "This fellow was with Jesus of Nazareth." He denied it again, with an oath: "I don't know the man!"
After a little while, those standing there went up to Peter and said, "Surely you are one of them; your accent gives you away." Then he began to call down curses, and he swore to them, "I don't know the man!"
Immediately a rooster crowed. Then Peter remembered the word Jesus had spoken: "Before the rooster crows, you will disown me three times." And he went outside and wept bitterly.
Reflect:
Have you ever hid or denied your faith? What were the circumstances? Would you change anything, if you had a chance for a do over?
Peter's denial was based in fear. What was your denial based in?
Pray:
God, remove anything from us that would cause us to deny you before anyone. Amen.
5th Station: Jesus is judged by Pilate
Read: Mark 15:1-5
Very early in the morning, the chief priests, with the elders, the teachers of the law and the whole Sanhedrin, made their plans. So they bound Jesus, led him away and handed him over to Pilate.
"Are you the king of the Jews?" asked Pilate. "You have said so," Jesus replied. The chief priests accused him of many things. So again Pilate asked him, "Aren't you going to answer? See how many things they are accusing you of." But Jesus still made no reply, and Pilate was amazed.
Reflect:
• What are the issues that influence you in school, work, and community? The good ones, and bad ones.
• How can you let God be the primary influencer in your life?
Pray:
God, help us to let you influence our decisions more than anything or anyone. Amen.
6th Station: Jesus is scourged and crowned with thorns
Read: John 19:1-5
Then Pilate took Jesus and had him flogged. The soldiers twisted together a crown of thorns and put it on his head. They clothed him in a purple robe and went up to him again and again, saying, "Hail, king of the Jews!" And they slapped him in the face.
Once more Pilate came out and said to the Jews gathered there, "Look, I am bringing him out to you to let you know that I find no basis for a charge against him." When Jesus came out wearing the crown of thorns and the purple robe, Pilate said to them, "Here is the man!"
Reflect:
• How does my daily routine help or hurt the practice (or living out) of our faith?
How do the choices I make that affect my environment at home, school, or work?
What are ways that I can empower those around me?
Pray:
God, help us to create routines that build our relationship with You and grant wisdom and strength to empower those around us. Amen.
7th Station: Jesus takes up his cross
Read: John 19:16-17
Finally Pilate handed him over to them to be crucified. So the soldiers took charge of Jesus. Carrying his own cross, he went out to the place of the Skull (which in Aramaic is called Golgotha).
Reflect:
• Have you ever given up on someone or something that you believed in?
• Are there decisions and choices that you can make incrementally in my daily life that might help my relationships?
Pray:
God, help us to reflect on the little things we do and wisdom to change what we can. Amen.
8th Station: Jesus is helped by Simon to carry his cross
Read: Mark 15: 21
A certain man from Cyrene, Simon, the father of Alexander and Rufus, was passing by on his way in from the country, and they forced him to carry the cross.
Reflect:
What ways have you have helped others?
What are some sacrifices you've made for others, including God?
How have you felt before, during, and after?
Pray:
God, help us to let go of our agendas, so that we might follow your leading. Amen.
9th Station: Jesus meets the Women of Jerusalem
Read: Luke 23:27-31
A large number of people followed him, including women who mourned and wailed for him. Jesus turned and said to them, "Daughters of Jerusalem, do not weep for me; weep for yourselves and for your children. For the time will come when you will say, 'Blessed are the childless women, the wombs that never bore and the breasts that never nursed!' Then "'they will say to the mountains, "Fall on us!" and to the hills, "Cover us!" For if people do these things when the tree is green, what will happen when it is dry?"
Reflect:
• How can we support people who suffer in our area? Around the world?
• What are some ways we reach out in love?
Pray:
God, help us to live out our convictions and faith loving as one who is dependable. Amen.
Listen to:
10th Station: Jesus is crucified.
Read: Mark 15: 22-32
They brought Jesus to the place called Golgotha (which means "the place of the skull"). Then they offered him wine mixed with myrrh, but he did not take it. And they crucified him. Dividing up his clothes, they cast lots to see what each would get.
It was nine in the morning when they crucified him. The written notice of the charge against him read: the king of the jews.
They crucified two rebels with him, one on his right and one on his left. Those who passed by hurled insults at him, shaking their heads and saying, "So! You who are going to destroy the temple and build it in three days, come down from the cross and save yourself!" In the same way the chief priests and the teachers of the law mocked him among themselves. "He saved others," they said, "but he can't save himself! Let this Messiah, this king of Israel, come down now from the cross, that we may see and believe." Those crucified with him also heaped insults on him.
Reflect:
What are some creative ways we can reach out and show love during this global pandemic?
Create a plan to do at least one way.
Pray:
God, grant us creativity in this time so our love for You through our actions for others. Amen.
Listen to:
11th Station: Jesus promises his kingdom to the repentant thief
Read: Luke 23:39-43
One of the criminals who hung there hurled insults at him: "Aren't you the Messiah? Save yourself and us!" But the other criminal rebuked him. "Don't you fear God," he said, "since you are under the same sentence? We are punished justly, for we are getting what our deeds deserve. But this man has done nothing wrong."
Then he said, "Jesus, remember me when you come into your kingdom." Jesus answered him, "Truly I tell you, today you will be with me in paradise."
Reflect:
Reflect personally on what you need to confess to God? Or another person? Take action, ask.
How have you seen God at work in your life during the last month?
How can we embrace in our own lives the good news of Emmanuel – God with us? Maybe how can we reach out?
Pray:
God, help us recognize our fallenness and see Your grace in our lives. Amen.
12th Station: Jesus entrusts Mary and John to each other
Read: John 19: 25-27
Near the cross of Jesus stood his mother, his mother's sister, Mary the wife of Clopas, and Mary Magdalene. When Jesus saw his mother there, and the disciple whom he loved standing nearby, he said to her, "Woman, here is your son," and to the disciple, "Here is your mother." From that time on, this disciple took her into his home.
Reflect:
How is supporting others showing love for God?
What are some tangible ways you might help others? What are you willing to do for others and what are your limits?
Pray:
God, teach me your ways and the courage to live them out. Amen.
Listen to:
13th Station: Jesus dies on the cross
Read: Matthew 27:45-54
From noon until three in the afternoon darkness came over all the land. About three in the afternoon Jesus cried out in a loud voice, "Eli, Eli, lema sabachthani?" (which means "My God, my God, why have you forsaken me?").
When some of those standing there heard this, they said, "He's calling Elijah."
Immediately one of them ran and got a sponge. He filled it with wine vinegar, put it on a staff, and offered it to Jesus to drink. The rest said, "Now leave him alone. Let's see if Elijah comes to save him."
And when Jesus had cried out again in a loud voice, he gave up his spirit.
At that moment the curtain of the temple was torn in two from top to bottom. The earth shook, the rocks split and the tombs broke open. The bodies of many holy people who had died were raised to life. They came out of the tombs after Jesus' resurrection and went into the holy city and appeared to many people.
When the centurion and those with him who were guarding Jesus saw the earthquake and all that had happened, they were terrified, and exclaimed, "Surely he was the Son of God!"
Reflect:
Have you ever felt that God wasn't there for you? How about a friend or loved one? What did it feel like?
What are some ways God has been there?
Pray:
God, give us strength in times when we have trouble. Amen.
14th Station: Jesus is laid in the tomb
Read: Matthew 27: 57-61
As evening approached, there came a rich man from Arimathea, named Joseph, who had himself become a disciple of Jesus. Going to Pilate, he asked for Jesus' body, and Pilate ordered that it be given to him. Joseph took the body, wrapped it in a clean linen cloth, and placed it in his own new tomb that he had cut out of the rock. He rolled a big stone in front of the entrance to the tomb and went away. Mary Magdalene and the other Mary were sitting there opposite the tomb.
Reflect:
How patient are you? What do you do when you have to wait?
What might you need to bury, so your faith will live and flourish?
Pray:
God, grant us patience as we with on your redemptive work in our lives. Amen.
Listen to: