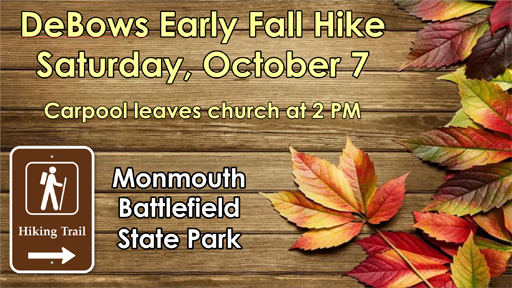 Our resident trail-guides, Wayne and Peggy Ervin, will kick-start our new hiking small group by taking us on an adventure in Monmouth Battlefield State Park. Come join us as we enjoy the early fall weather and the changing season!
The date is Saturday, October 7th for our first hike as a church. People interested in this activity should meet at the church at 2:00pm, and from there we will carpool over to Monmouth Battlefield State Park. Restrooms are available in the visitor's center. The actual hike will start about 3:00pm and will be about 3 miles in length. Sunday, October 8th after church will be the rain date.
This will be an active group and future events will be scheduled.  Events will include a variety of nature walks and hikes that are open to family members of all ages.
So, find a comfortable pair of walking shoes and join us as we explore God's creation and gets some exercise. Be ready to experience nature and don't forget to bring your camera and a bottle of water.