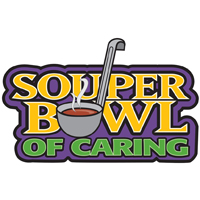 Souper Bowl Weekend
March 6-7, 2021
In support of
DeBows Food Pantry Ministry
While we cannot celebrate Souper (Super) Bowl Sunday quite the same as in years past, we can still have our private household parties safely.  We will miss the comradery in Fellowship Hall, but we can still enjoy homemade soups, made by members of our own congregation.  And we can do all this while supporting our Food Pantry Ministry, which serves those in need in our community.
 
This year's Souper Bowl event will take place over two days: March 6 & 7.
 
You will pre-order your soup online, then you can pick up your soup on Saturday, March 6, between 12 – 1 PM or after the 10 AM worship service on March 7.  The Saturday pickup will be via a drive-thru, non-contact process. You will be able to give your donation when you pick up your soup.  Please make any checks payable to the church.  Your donations directly support the DeBows Food Pantry Ministry and are tax deductible. Please donate as the Holy Spirit moves you.
 
Available soups to order are:

* Chicken Slick
* Chicken Chili 
— Chef: Guy Raymond

* Cream of Broccoli w/Cheddar
— Chef: Christine Raymond  

* Cheesy Chicken Chowder
— Chef: Jill Palmer  

* Turkey Minestrone
— Chef: Steve Wesolovski  

* Butternut Squash
— Chef: Jean Iannacone  

* Tomato Basil Cheese Tortellini
* Mushroom Barley
— Chef: Anita Chichester 

You may order your soup online using the below link. Please order no later than February 21.  Our soup makers need time to prepare the orders and there may be limited quantities of certain soups. Orders will be reserved in the order received.
 
NOTE: All soups will be delivered frozen in 1-pint containers. You may enjoy now or save it for some future date.
CLICK HERE TO PLACE SOUP ORDER
Different process, same goal: work together as a church, stay connected with each other, and support our mission to feed the hungry in our community.  The last 10 months have been hard on many people in our nation, our community, and even for some in our congregation.  Let us praise the Lord that we are able to continue find ways to share His love with those around us. "Thank You" for your support!