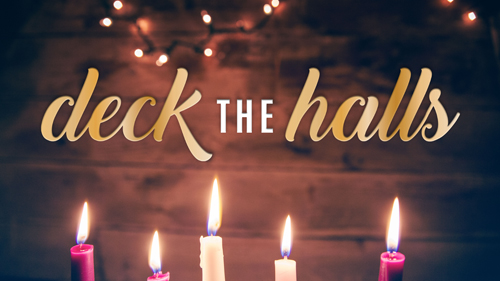 As we journey through Advent this year, we will be using the Deck the Halls sermon series, which will highlight the Hope, Peace, Joy & Love of God. We will then proclaim Christ on Christmas Eve and acknowledge the Promise Fulfilled the Sunday after.
Conditions permitting, DeBows will present 3 services each Sunday:
Outdoors at 9:00 AM
(weather permitting)
Indoors at 10:00 AM
(Following COVID-19 guidelines)
Online at 10:00 AM at debows.online.church
Christmas Eve Service will be Outdoors at 6:00 PM and Indoors & Online at 6:30 PM
Deck the Halls | Sermon Series
Sunday ~ November 29
Deck the Halls with Hope
Scripture: Isaiah 9:2-7
In times when we feel uncertain, God provides an answer.
Sunday ~ December 6
Deck the Halls with Peace
Scripture: Isaiah 26:7-13
In an uneven season of stress and distractions, God offers us the road-map to peace.
Sunday ~ December 13
Deck the Halls with Joy
Scripture: Luke 1:39-55
God provides joy in unexpected ways through unexpected means, people and places.
Sunday ~ December 20
Deck the Halls with Love
Scripture: Matthew 1:18-25
God is with us always and gives us the greatest gift of love, the choice to accept it, and the call to share it.
Christmas Eve Service – 6:30 PM
Deck the Halls for Christ
Scripture: Luke 2:1-20
We come this day to celebrate the birth of Christ, the Savior of the world.
Sunday ~ December 27
Deck the Halls with a Promise Fulfilled
Scripture:  Luke 2:22-40
As we celebrate the promise of God, fulfilled in Jesus, we hold onto God's promises for our lives too.