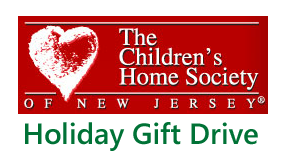 During the Christmas season, DeBows UMC collects gifts for children of the Children's Home Society of New Jersey. It is our way to share the love of Christ during this very special time of year with those less fortunate than ourselves.
Children's name will be distributed on Sunday, November 12th and gifts should be brought to church by Sunday, December 3rd.  They will be delivered to the Children's Home Society during the following week.
Information From The Children's Home Society
Help at-risk babies and children have an unforgettable holiday this year!
The Children's Home Society of New Jersey has been saving children's lives and building healthy families throughout NJ and Eastern PA since 1894. And each year at Christmas, we partner with caring donors to give each child the special holiday they deserve.
Holiday gifts from our generous donors are so much more than toys and clothing; your gift may be the only present a local child unwraps on Christmas morning, and it will remind them that someone cares. Your gift will give a child hope for a better future.
Please help us spread cheer and show the true meaning of the holiday season by participating in our Holiday Gift Drive. With over 2,000 children enrolled in our 50+ programs this year, we need your help more than ever.
UPDATE
"Thank You" to everyone who participated in the Trenton Children's Home Society Holiday Gift Drive. DeBows collected gifts for 20 children. They were delivered by Tom, Dena, Teresa, and Anita on December 12th and were received with much appreciation.  Thanks to Tom for coordinating this mission activity.